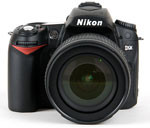 The Nikon D90 is Nikon's latest mid-range digital single lens reflex (DSLR) camera and the world's first DSLR to offer high-definition video capture. The D90′s 12-megapixel APS-sized CMOS sensor also ups the high-ISO ante with very low noise up to – and in some situations, beyond – ISO 800.
Want to buy a Nikon D90?
Compare prices and shop for a Nikon D90 digital camera >>

Pros
720p HD D-Movie video mode!
Excellent low-light, high-ISO performance
Ultrasonic sensor cleaning
Backwards-compatible with many of Nikon's older F-mount lenses
Good battery life

Cons
Video quality needs to be improved
No auto focus in video mode
Non-weather-sealed, plastic body
Small grip uncomfortable with pro lenses and Speedlight flashes

Introduction
I'm not a fanboy by nature – especially not for Nikon. While I do use Nikon gear for the bulk of my work, when I dove into the world of digital SLRs I went the Nikon route mainly to cannibalize my family's old 35mm Nikkor lenses. Sure, Nikon's cameras have served me well over the years but much of the work I've done could have been done with any other decent DSLR. In short, I'm a firm believer that the camera does not make the photographer.
Now that I've disclosed my Nikon background I can admit my love for the Nikon D90. That's right – I love it.
The D90 is much more than a replacement for its predecessor, the D80. It also inherits many upgraded features from its big brother, the D300, making the D90 a formidable contender in the DSLR arena. Retailing at $999.95 (body only) the D90 is competitively priced given its rich set of features and it's quite a bargain when compared to the D300 or Canon's EOS 50D digital SLR.
I had the opportunity to use the D90 under a variety of conditions alongside my workhorse, the D200. In just about every situation the D90 was able to keep up with, if not exceed the performance of my D200. On more than one occasion I even left the D200 in the bag and shot my editorial work with the D90.

next page – Nikon D90 Camera Features >>