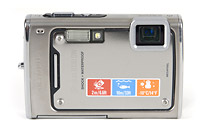 The Olympus Stylus 1030 SW is the latest top-of-the-line offering in the Olympus Stylus SW waterproof and shockproof digital camera line. Olympus has made a lot of improvements to the Stylus SW cameras since we reviewed the original 720 SW. Most obvious is the increased 10-megapixel resolution. The 1030 SW is also waterproof to 33 feet, can withstand drops of over 6 feet, and is crushproof and freezeproof. The wide, 3.6x optical zoom lens has a focal range of 28-102mm (35mm equivalent). Composing and image playback are done with a 2.7-inch HyperCrystal II LCD display.
Want to buy a Olympus Stylus 1030 SW?
Compare prices and shop for a Olympus Stylus 1030 SW digital SLR >>
Pros
Waterproof and nearly indestructible
Pocket-sized
Live histogram
28mm, real wide-angle lens – yay!
Panoramic mode (requires Olympus xD card)

Cons
Too easy to get finger in front of lens
Image quality isn't what I'd expect of a 10-megapixel camera
No mechanical image stabilization
No optical viewfinder
xD memory cards only work with Olympus and Fujifilm compact digital cameras
Mode dial rotates in pocket or case

Introduction
Olympus introduced its first waterproof and shockproof Stylus SW camera in 2006 (Olympus Stylus 720 SW Pro Review). The latest model, the Olympus Stylus 1030 SW, has numerous upgrades, including a 10-megapixel sensor; a wider, longer zoom lens; a larger LCD; and significantly enhanced water resistance and durability. Olympus is at the head of the pack when it comes to rugged, compact, outdoor digital cameras. I've used this one for a few months as a general point-and-shoot, as well as for some serious outdoor photography on the ski slopes and mountain bike trails. For snorkel testing, I sent the camera to Hawaii with PhotographyREVIEW.com Web tech, Valerie Woo, aka aquadog.
next page – Olympus Stylus 1030 SW Camera Features >>