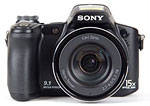 The Sony Cybershot DSC-H50 is a compact, 9.1-megapixel digital camera with an impressive image-stabilized 15x Carl Zeiss f/2.7-4.8 optical zoom lens and a 3-inch tilting LCD monitor. The DSC-H50 features Face Detection, Smile Shutter and Intelligent Scene Recognition technologies, as well as video recording, HDTV compatibility and a remote control. It has a retail list price of $399.99.
Want to buy an Sony Cybershot DSC-H50?
Compare prices and shop for a Sony Cybershot DSC-H50 digital camera >>

Sony Cybershot DSC-H50 Pros
15x zoom lens with Super SteadyShot optical image stabilization (31-465 mm equivalent).
Very good image quality.
Exposure settings ranging from Easy Mode to full manual control.
Compact size and light weight.
Large, tilting LCD monitor.
MPEG video recording with zoom functionality.
Easily accessible continuous shooting/bracket button.
Remote control – great for group and self-portraits.
In-camera editing and slideshow functions.

Sony Cybershot DSC-H50 Cons
Optical viewfinder is so small it's almost useless.
Somewhat awkward physical design and user interface.
Battery for remote control is difficult to access.

Introduction
I received the Sony Cybershot DSC-H50 the day before I left for a week-long road trip through the Southwest. I only had time for a cursory review of the manual before I was off and shooting. I had a few challenges with the camera, but considering my very first outing with it was the trip of a lifetime, I think it served me quite well. I came home with good photographs of the places I visited, including Zion National Park, Mesa Verde, Canyon de Chelly and the Grand Canyon. It was an epic trip and the Sony DSC-H50 helped me capture the memories.
next page – Sony Cybershot DSC-H50 Camera Features >>