---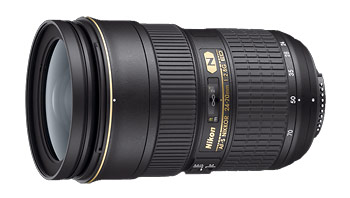 If you want to get serious about your photography you pony up and replace that 18-55mm kit lens you got with your camera with an f/2.8 aperture standard zoom like the Canon EF 24-70mm f/2.8L or the Nikon AF-S 24-70mm f/2.8G. Those lenses cost more than most digital SLRs. And they should. They've got big apertures for low light and depth-of-field control, excellent optics, great auto focus and they'll do more for your photography in the long term than any camera. If you can afford the expensive stuff, by all means, buy it. Those lenses are worth the money and you'll own them forever. But if you can't afford them, we've included some less expensive options below. We've also included some 17-50mm pro zooms made especially for APS-C crop sensor DSLRs like the Canon Digital Rebels and the Nikon D5100. That said, our top pick for a pro zoom still has to be the Nikon AF-S 24-70mm f/2.8G. It costs a fortune and it weighs a ton. But PhotographyREVIEW.com members give it a near-perfect rating and once you've used it it's hard to accept anything less.
More Pro Standard Zoom Lenses:
Sigma 24-70mm f/2.8 IF EX DG HSM ($900)
Tamron SP AF17-50mm f/2.8 XR Di-II LD ($449)
Canon EF 24-70mm f/2.8L USM ($1350)
Canon EF-S 17-55mm f/2.8 IS ($1179)
Note: Because of all the different formats and camera brands there might not be a lens here to fit your camera. If there isn't, please check the lens reviews or post on our forums to get some recommendations.
next lens category – All-Purpose Zoom Lens >>