---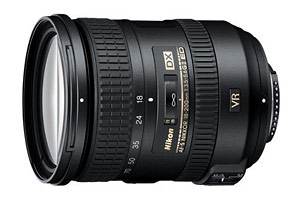 My most used lens and the lens I recommend the most to people looking to replace the kit lens that camera with their APS-C digital SLR, is an 18-200mm zoom. It's a huge zoom range compared to an 18-55mm kit lens and the image quality is a couple steps above as well. The 18-200mm zooms aren't pro-level but they more than make up for that with their versatility and compact, travel-friendly size. I own better quality lenses but my 18-200mm gets used the most because it's easy to take everywhere, it does it all and does it well. The Canon and Nikon 18-200mm zooms include optical image stabilization (IS or VR) and I highly recommend getting a lens that has image stabilization – unless you own a Pentax, Sony or Olympus camera, in which case the image stabilization is handled in the camera – lucky you!
I'm giving Nikon props for introducing the first 18-200mm image-stabilized zoom by making the Nikon AF-S DX Nikkor 18-200mm f/3.5-5.6G ED VR II zoom lens our top pick for this category. The new Nikon 18-200mm VR II is rated highly by PhotographyREVIEW.com members and the original version was very popular with Nikon DSLR shooters. For non-Nikon users and photographers on a tighter budget, there are a couple less expensive 18-200mm lenses and some even longer zooms below the Nikon AF-S DX Nikkor 18-200mm f/3.5-5.6G ED VR II review and shopping links. For full-frame Nikon shooters without budget limitations, the Nikon AF-S 28-300mm VR zoom lens is a dreamy all-purpose zoom lens.
More Pro Telephoto Zoom Lenses:
Sigma 18-200mm f/3.5-6.3 II DC OS HSM ($499)
Canon EF-S 18-200mm f/3.5-5.6 IS ($699)
Sony DT 18-200mm f/3.5-6.3 ($529)
Nikon AF-S Nikkor 28-300mm f/3.5-5.6 ED VR ($1049)
Tamron AF18-270mm f/3.5-6.3 Di II VC LD Aspherical (IF) Macro ($399)
Note: Because of all the different formats and camera brands there might not be a lens here to fit your camera. If there isn't, please check the lens reviews or post on our forums to get some recommendations.
end – Back To Lens Guide Intro >>