---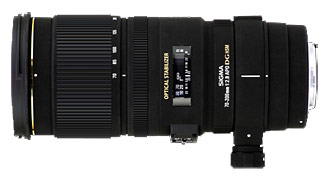 Good lenses are the best photography gear investment you can make. And one of the best is the 70-200mm f/2.8 zoom lens – especially for sports, portrait and outdoor photographers. The fast, fixed f/2.8 aperture allows you to shoot in lower light as well as use faster shutter speeds to freeze action. It's also useful for shallow depth-of-field photos that make your subject pop out of the background. In my opinion, a 70-200mm f/2.8 (or f/4) pro zoom is one of the most important investments a serious photographer can make. The lens is so good and so versatile that you'll wonder how you lived without it. They are expensive, though. The top-of-the-line Nikon and Canon 70-200mm f/2.8 lenses list for about $2500. For that reason you'll find a bunch of lens options below – all of which are very good. But our top pick is the recent Sigma 70-200mm f/2.8 APO EX DG OS HSM. At about $1400 on the street it's still not cheap. But we've used it and the image quality and performance are very close to Canon and Nikon but for about $1000 less. The Sigma 70-200mm f/2.8 APO EX DG OS HSM is also available with Nikon, Canon, Sony and Pentax mounts so compatibility isn't an issue.
More Pro Telephoto Zoom Lenses:
Canon EF 70-200mm f/2.8L II IS USM ($2499)
Nikon AF-S Nikkor 70-200mm f/2.8G ED VR II ($2399)
Olympus Zuiko Digital ED 35-100mm f/2.0 ($2499)
Sony SAL-70200G 70-200mm f/2.8 APO G(D) SSM ($1799)
Canon EF 70-200mm f/4L USM ($700)
Nikon AF Zoom-Nikkor 80-200mm f/2.8D ED Lens ($1000)
Tamron SP AF70-200mm f/2.8 Di LD (IF) Macro ($699)
Note: Because of all the different formats and camera brands there might not be a lens here to fit your camera. If there isn't, please check the lens reviews or post on our forums to get some recommendations.
next lens category – Wide-Angle Zoom Lens >>