---
Inexpensive Telephoto Zoom Lens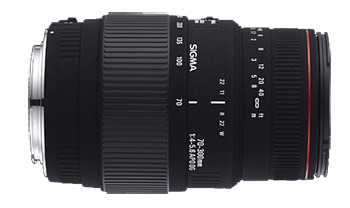 One of the most popular types of lens on PhotographyREVIEW.com is the inexpensive telephoto zoom – usually a 70-300mm. It compliments and adds to the zoom range of the kit lens that came with your camera and gives you a lot more reach. We can't all afford a $5000 300mm f/2.8 pro lens. But that doesn't mean regular folks don't want to be able to take pictures of wildlife, sports and other subjects that require long telephoto lenses. Most lens-makers have a sub-$400 70-300mm zoom in their lens lineup. You just need to choose one that fits your digital SLR and your budget. Of course, buying a more expensive lens will get you better image quality and performance and I recommend staying away from 70-300mm lenses that cost less than $200. It's also a good idea to get a telephoto zoom that has image stabilization – mechanical systems that compensate for camera shake. Camera shake is magnified with telephoto lenses and even in good conditions can ruin your photos. Our top pick, and one of the most-popular lenses in the PhotographyREVIEW.com user reviews, is the Sigma 70-300mm f/4-5.6 APO DG Macro zoom lens:
More Inexpensive Telephoto Zoom Lenses:
Canon EF-S 55-250mm f/4.0-5.6 IS ($229)
Nikon AF-S DX Nikkor 55-300mm f/4.5-5.6G ED VR ($399)
Tamron SP 70-300mm VC USD ($449)
Canon EF 70-300mm f/4-5.6 IS USM ($649)
Nikon AF-S VR Zoom-Nikkor 70-300mm f/4.5-5.6G IF-ED ($669)
Sigma 70-300mm F4-5.6 DG OS ($549)
Note: Because of all the different formats and camera brands there might not be a lens here to fit your camera. If there isn't, please check the lens reviews or post on our forums to get some recommendations.
next lens category – 50mm Prime Lens >>