---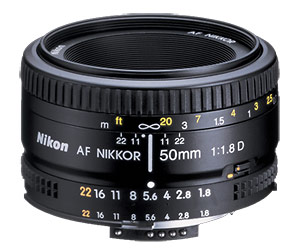 One of the most recommended upgrades for digital SLR owners is a 50mm prime lens. Twenty years ago, before zoom lenses got really good, the 50mm lens was the standard all purpose lens. Now, people like them because they have great optics and their larger apertures make them great for shooting in low light and offer excellent depth-of-field control. On a full-frame or 35mm film camera the 50mm lens has the same angle-of-view as humans normally see and on an APS-C DSLR with a 1.5x conversion factor (Nikon D3100, D7000, Canon EOS Digital Rebel T3i / 600D, EOS 7D, etc., Sony Alpha A55, Pentax K-5, etc.) the 50mm lens is effectively converted to 75 or 80mm – the traditional focal length for a portraits. A 50mm prime lens also teaches you to be a better photographer. Since you don't have the convenience of zoom you have to pay closer attention to your composition and "zoom with you feet." On top of the technical arguments for 50mm lenses, they're also cheap. The Canon and Nikon 50mm f/1.8 prime lenses are often called "nifty fifty" because they're so good and cost so little – around $100 if you shop around. With over 150 user reviews and a 4.48 rating, the obvious top choice is the Canon EF 50mm f/1.8 II lens. If you don't have a Canon camera, no need to worry, there are some more 50mm lens options below the Canon 50mm f/1.8 II review and shopping links, below:
More 50mm Prime Lenses:
Nikon AF Nikkor 50mm f/1.4D ($130)
Nikon AF-S Nikkor 50mm f/1.8G ($219)
Pentax SMCP-FA 50mm f/1.4 ($330)
Sony SAL-50F14 – 50mm f/1.4 ($349)
Note: Because of all the different formats and camera brands there might not be a lens here to fit your camera. If there isn't, please check the lens reviews or post on our forums to get some recommendations.
next lens category – Pro Telephoto Zoom Lens >>