Sony NEX-5N Camera Experience

I only had the Sony NEX-5N for a few weeks but I thoroughly enjoyed the time I spent with it. It was my first real chance to get to know the Sony NEX mirrorless system and I adapted to it quite quickly. The camera body is very small and thin and the 16-megapixel APS-C CMOS sensor provides outstanding image quality compared to most other mirrorless cameras. It has a 3-inch, tilting touch screen LCD display, a nice solid magnesium body and full HD video in the AVCHD format. Since the NEX-5N is my hands-on introduction to Sony's NEX camera line, it's also the beginning of my NEX-7 pro review. The 24-megapixel NEX-7 was our 2011 Camera of the Year and this review gave me a chance to get familiar with the Sony's NEX camera system.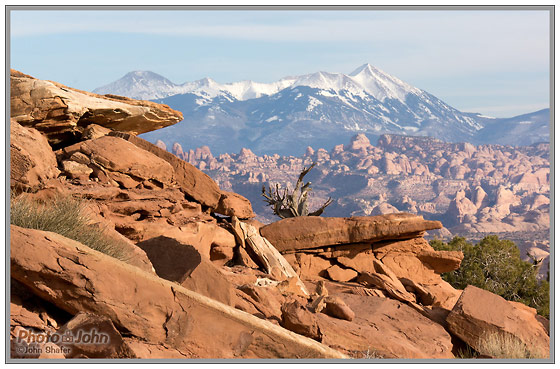 When Sony initially introduced their NEX mirrorless cameras, there was some grumbling about awkward, menu-based controls. I never used the first-generation NEX cameras so I'm not in a position to judge. I know Sony heard those complaints and tweaked the camera controls a bit. They are different from other cameras I've used and take a little getting used to. There's a pretty standard four-way controller / dial on the back of the camera with dedicated buttons for functions like display changes, exposure compensation and self-timer. However, unlike most compact system cameras, there's no mode dial. Instead, there are a couple of buttons to the right of the LCD that access a sort of virtual mode dial display on the LCD. Accessing shooting modes was confusing at first but I got used to it quickly. The LCD display is a 3-inch touchscreen and you can change settings by using the four-way controller / dial or by touch. I didn't use the touchscreen much as I'm not really used to them. But I did find myself using it more as I had the camera longer. I really like the touchscreen viewing photos. Scrolling, and zooming with a touchscreen is pretty much second nature now in this iPhone world. And I have to say, I like Sony's implementation of the touchscreen better than some other cameras I've used, which would take pictures accidentally in my pocket or when the camera was on a neck strap, bouncing against my stomach. The NEX-5N's touchscreen only did something when I really wanted it to.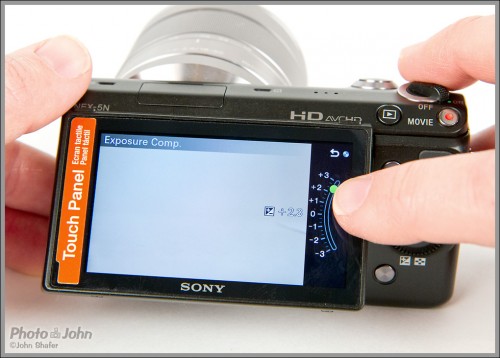 I shot a wide variety of subjects with the NEX-5N, including people, farm animals, landscape, and a wonderful photo of my wife and my cat Parker, who just died. Of course, I also did some outdoor action photography – mostly mountain bike stuff but I also took it out up to Alta for some ski photos one day. As with all compact system cameras, one of the main benefits of the NEX-5N is its relatively small size compared to a digital SLR. The standard 18-55mm kit lens and 55-210mm telephoto fit very comfortably in a either a small shoulder bag or the Lowepro Photo Sport AW camera pack I was mountain biking with at the time.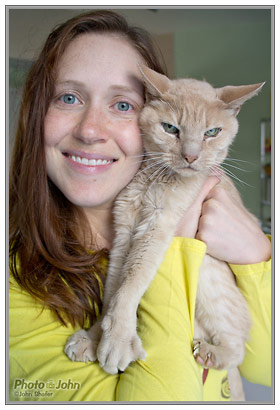 Although the Sony NEX-5N is small compared to a digital SLR, it's still bigger than a comparable Panasonic or Olympus Micro Four Thirds kit. The 5N's APS-C sensor is considerably larger than the sensor in Micro Four Thirds mirrorless cameras. Because of the larger sensor it has much better image quality. But the bigger sensor means the lenses have to be bigger, too. So while the NEX-5N camera body is very small, the two lenses I had were much larger than equivalent Micro Four Thirds lenses. That left me a bit conflicted because one of the main benefits of choosing a compact system camera is the smaller size. The NEX-5N is smaller than a digital SLR but the whole package ends up being quite a bit larger than a Micro Four Thirds setup. Compromises are an inevitable part of photography. In this case you need to decide what's more important to you – the better (much better) image quality of the NEX-5N, or an even smaller and more travel-friendly Micro Four Thirds kit.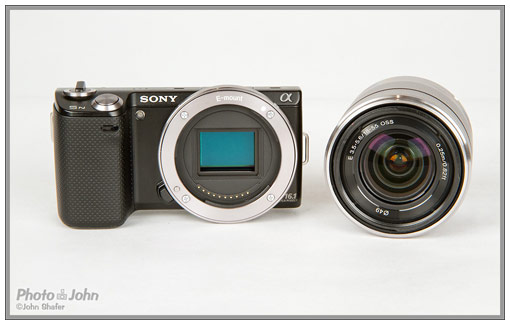 Let's talk about the NEX-5N's auto focus. Sony says the auto focus in the 5N has been improved and over the past year or so camera companies have made a lot of claims about various mirrorless cameras having the "fastest auto focus." While these claims are true, they only apply to single shot auto focus. Like most mirrorless, compact system cameras the NEX-5N uses contrast detect auto focus. Continuous auto focus – the kind you really want for shooting sports, or kids, or pets – is a whole different ballgame. And contrast detect auto focus doesn't play that game very well. Digital SLRs, on the other hand, use phase detect auto focus unless they're in live view or video mode, in which case they use contrast AF detect as well. The phase detect auto focus sensor array is located on the digital SLR's mirror. Obviously, that isn't possible with a "mirrorless" camera like the NEX-5N. What this means is pre-focusing and shooting works great with the NEX-5N and other mirrorless cameras. But if you want to track a fast moving subject with continuous auto focus, the NEX-5N doesn't work so well. When I tested it on the ski slopes it failed miserably. I didn't get one sharp ski photo using the NEX-5N's continuous auto focus. With my digital SLR I would have had plenty of well-focused photos to choose from. This isn't the end of the world, though. All cameras demand some sort of compromise. With the mirrorless cameras, we trade auto focus performance for a smaller, lighter camera. And we modify our technique, planning our shots and pre-focusing in order to get good sports photos. As long as you know you need to pre-focus with the NEX-5N, you'll get plenty of useable photos.
Burst speed was also an issue for action photos. The 5N can shoot 10 frames per second but only in a Speed-Priority scene mode. You don't get to make any exposure decisions with the Speed-Priority mode, though. Since I prefer manual exposure controls, that doesn't really work for me. In any other mode, the NEX-5N maxes out at 3 frames per second – too slow for serious action photography, especially ski photos.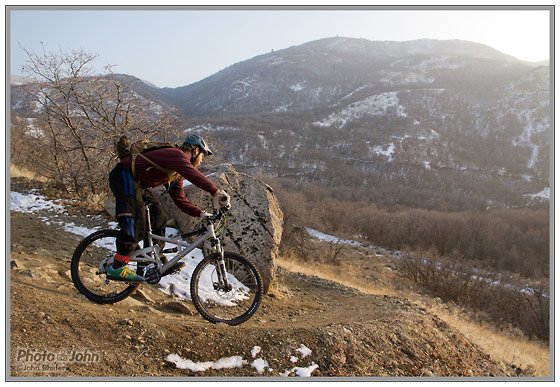 I didn't have one for review, but Sony has a very cool lens adapter that essentially turns the NEX-5N or any other NEX camera into a digital SLR. The Sony Alpha LA-EA2 Camera Mount Adapter allows the NEX cameras to use A-Mount Alpha lenses built for Sony digital SLRs. But more importantly, it adds the transparent mirror from Sony's SLT cameras. That's the mirror that has the phase detect auto focus sensor. So, using the LA-EA2 with the NEX-5N should give the camera the same auto focus performance as Sony's SLT DSLR cameras. That's a really big deal for someone who wants a really flexible, compact camera system. Sony's SLT cameras also have the only really useable continuous auto focus in movie mode, in my experience. So if you're an action sports shooter who shoots video and stills, the Sony NEX camera line arguably offers the more versatility than any other camera system on the planet. You can keep it small if you're backpacking, or you can have the very best performance just by adding the LA-EA2 lens adapter.
As you'd expect from Sony, a company that's been doing video forever, the video quality from the NEX-5N is very good. I didn't actually shoot much video with it but I included a short mountain bike sample clip in the NEX-5N video intro at the beginning of the review. In that clip, I was impressed with the 5N's continuous auto focus. Given, it was some pretty slow speed mountain bike action but the continuous auto focus seemed to keep up with the rider just fine. So if you're shooting acting that's not too fast, the continuous auto focus may work.
One thing the NEX-5N doesn't have is a built-in flash or hot shoe. I didn't mind, since the low light image quality is so good. However, less experienced photographers who rely on auto flash for snapshots might find this is a problem. You can put a flash on the NEX-5N via the camera's "Smart Accessory terminal" [EVF image], shown here with the optional electronic viewfinder (EVF). Sports shooters and people who want to do video should seriously consider spending the extra $350 for the 2359k-dot resolution OLED EVF. It's the same EVF they put in their top-of-the-line NEX-7 and the A65 and A77 digital SLRs. The first time I looked through it I didn't even realize I was looking through an electronic viewfinder. Not only does it make it easier to see what you're doing in bright light and show you all the data you can see on the LCD, it also provides a third point of contact when you're shooting, helping to keep the camera steady. This will help you get sharper low light photos, smoother pan images for sports and it will help keep handheld video smooth.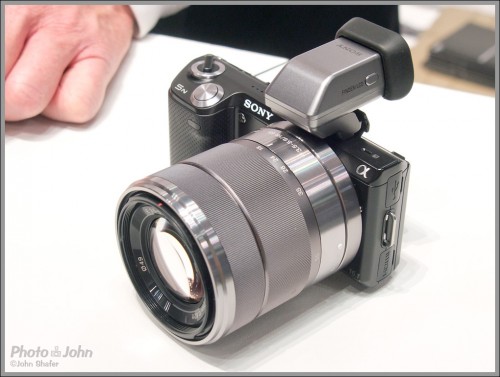 Next – Sony NEX-5N Image Quality >>